Clariel: The Lost Abhorsen is the fourth book in the Old Kingdom series. It takes place 600 years before the events of Sabriel, and focuses on Clariel, now known as Chlorr of the Mask, who was formerly a member of the Abhorsen family. It was published in October 2014 together with an Amazon Kindle and audiobook edition. The Audio Book will be released by Listening Library that also released the earlier audiobooks.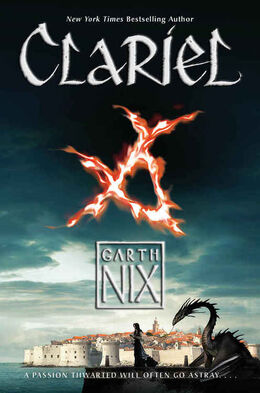 Clariel is the daughter of the one of the most notable families in the Old Kingdom, with blood relations to the Abhorsen and, most importantly, to the King. When her family moves to the city of Belisaere, there are rumors that her mother is next in line for the throne. However, Clariel wants no part of it—a natural hunter, all she ever thinks about is escaping the city's confining walls and journeying back to the quiet, green world of the Great Forest.
But many forces conspire against Clariel's dream. A dangerous Free Magic creature is loose in the city, her parents want to marry her off to a killer, and there is a plot brewing against the old and withdrawn King Orrikan. When Clariel is drawn into the efforts to find and capture the creature, she discovers hidden sorcery within herself, yet it is magic that carries great dangers. Can she rise above the temptation of power, escape the unwanted marriage, and save the King?
http://insideadog.com.au/blog/release-date-clariel-small-sneak-peek
Community content is available under
CC-BY-SA
unless otherwise noted.